Can you imagine wrapping a pallet in less than a minute? The Atlanta Stretch Sfera Easy pallet wrapper allows you to do just that in an easy and manageable way with any type of pallet, using any film you choose to pack your load. Tall, uneven pallets? No problem, the Sfera Easy can palletize up to 2.4 meters autonomously: place it at the starting point and it will do the rest of the work. Unstable loads? Different types of film? Just take it to the starting point and start packing. The versatility of the Sfera Easy and its arm make it one of a kind.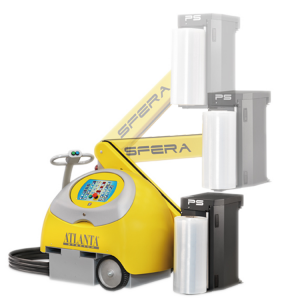 One machine, multiple options
Depending on your sector, the type of film will be different or you may use different thicknesses depending on the product. Relax, Sfera adapts the spool carriage to your preferences with FM, FE mechanical friction spool carriages or motorized pre-stretching systems. We know the difficulties of palletizing certain materials so we design with this in mind.
The secret: the mobile arm … and its brain
Okay, diameter is not a problem … but what about height? That neither. Sfera Easy has an arm that raises up to 2400mm for fast wrapping. In addition to this, it also incorporates a control panel with 99 predefined wrapping cycles. And that's not all … there's something-else that surprises everyone: it needs no maintenance or greasing. Your operator can receive it at home and start packing.
If you are looking for a versatile stretch film wrapping machine that takes up little space, Sfera Easy is what you are looking for. DISCOVER EVERYTHING ABOUT SFERA HERE.